The Law Society in partnership with the British Embassy in Uzbekistan held its first English Law Day event in Tashkent on 17 October.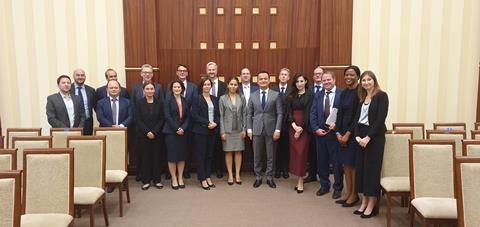 Our English Law Day conference highlighted the benefits of and latest trends in English Law. Expert panels discussed the use of English Law in M&A transactions, methods for avoiding disputes, international arbitration and UK claims involving Uzbekistani parties. The conference attracted over 120 senior representatives from leading companies, law firms, financial institutions, advisory firms and organisations from England and Wales, Uzbekistan and Central Asia.
Over three days, in addition to the conference, the Law Society led a delegation of 26 England and Wales solicitors for meetings with the UK Ambassador to Uzbekistan, Uzbekistan's Minister for Justice and the Capital Markets Development Agency.
The visit began with an embassy briefing session on the national market, reforms in Uzbekistan, growth areas and opportunities for legal services, meetings with local law firms and the Uzbekistan business community. Discussions covered Uzbekistan's main exports, reforms to the capital market sector, proposed PFI projects, and Government plans to create a special economic zone.
The delegation then met with Laziz Kudvatov, first deputy minister at the Ministry of Foreign Trade and Investment, and discussed the increasing number of foreign direct investments, government reforms and Uzbekistan's progression to 74th place in the World Bank's Ease of Doing Business global ranking.
The Uzbekistan Ministry of Justice hosted a roundtable for delegates led by Ruslanbek Davletov, Uzbekistan's Minister of Justice. Attendees discussed Government plans to set up a special economic zone in Tashkent based on English common law and plans to reform the capital market in Uzbekistan based on the principles of English common law by 2020.
The visit showed that there are a number of opportunities for UK law firms in Uzbekistan. According to participants, the high quality of speakers and moderators, and the interactive panel discussions and case study session made the conference a great success. Please find the full conference programme and presentation slides and photos below.