Sue Willman, partner at Deighton Pierce Glynn, was the Law Society's nominee in a delegation of experts, assembled by the International Legal Assistance Consortium (ILAC)*, to undertake a judicial assessment on the status of the rule of law and the justice sector in Guatemala. 
ILAC's judicial assessment report on Guatemala will be published in the first quarter of 2018 and the Law Society will use its findings to appraise how best to support Guatemalan lawyers and judges. Below some of Sue's reflections on her return from Guatemala
In October 2017, thanks to the Law Society's international team and to ILAC, I met for the first time a legal hero of mine: Yassmin Barrios.
Yassmin is a judge in Guatemala's Court for High Risk crimes; so called because it hears cases of corruption, drug trafficking and mass murder where witnesses, public prosecutors, lawyers and judges are all potentially at risk. She is the judge who convicted Guatemala's former president General Rios Montt for the mass murder of 1771 indigenous Mayans, sentencing him to 50 years for genocide and 30 years for crimes against humanity. Although her conviction and sentence were later overturned on a technicality by the Constitutional Court; her verdict was unprecedented because, for the first time in Guatemala's history, a national judiciary tried a former head of state for genocide in his home country. Unfortunately, she is now paying the price of her judicial independence and courage: Montt's lawyer has brought a bogus disciplinary claim against her to have her struck off as a lawyer. She has also survived several attempts made against her life and, very ominously, she is now being starved of cases in a judicial system that is overwhelmed by its backlog.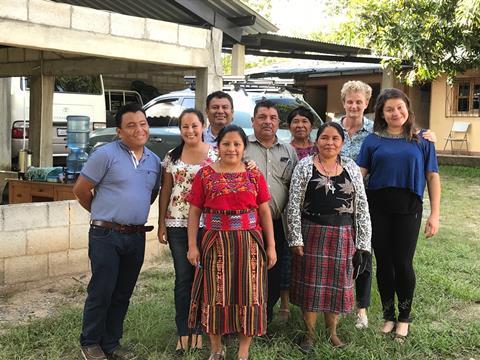 The challenges to the legal profession and the judiciary do not stop there. There are other more mundane obstacles to overcome such as limited [personnel and financial] resources and poor infrastructure. I only met Yassmin after a climb of 14 flights of stairs because the courthouse lifts weren't working. It also seems that the Supreme Court, which holds the purse strings, has cut resources for the High-Risk Court.
In many jurisdictions, including the USA, Guatemalan judges and prosecutors are appointed through a highly politicised appointment process. This makes independent judges, like Yassmin Barrios, the exception rather than the rule. In addition, salaries for judges are low and professional training is also very limited. As an anecdote, a few days into my trip, I visited (with other ILAC delegates) the mountain region of Baja Verapaz. We were unable to meet with the local judge because he had just been arrested on corruption charges for extorting a fee for processing cases.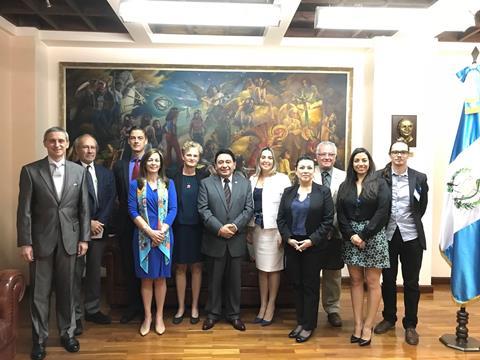 The visit to Baja Verapaz also served to provide a real insight into the human cost of the conflict - this was where we met Mayan victims of the massacres that took place there in 1982. It was evident that the conviction of Rios Montt had given them a great boost and hope to end to impunity, which was subsequently snatched away. In 2015, the Inter-American Court of Human Rights ordered the Guatemalan state to provide reparations, which included adequate investigations and compensation. In many cases, the state has yet to implement them. A woman, who wished to remain anonymous, said that she was still searching the location where her brothers had been buried to give their remains appropriate burial and her family the opportunity to grieve their loved ones. This woman also wants to find out the truth behind why her brothers were killed to punish the perpetrators and to prevent this situation from happening again. The indigenous lawyers' collective (ADIVIMA) is supporting her in this quest and would keep on fighting until she finds justice.
Yet in the face of overwhelming post conflict challenges, there are also some creative responses, which other countries can learn from. The most celebrated is the appointment of international prosecutor Ivan Velasquez to the UN backed model anti-impunity commission known as the International Commission against Impunity in Guatemala (CICIG) in 2013. Although the President Morales attempted to expel Mr Velasquez from Guatemala in August 2017, within hours, the country's Constitutional Court had blocked the move. We met him Mr Velasquez hours after the Constitutional Court had ordered the return of his visa.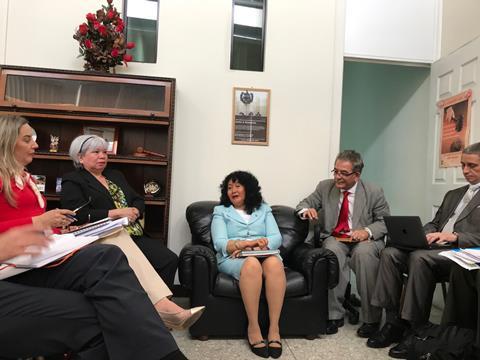 Another example of innovation is a pilot project tackling a crime rate of violence against women, which is currently at over 70%. In Baja Verapaz, we also visited a purpose-built prosecution unit that specializes in tackling violence against women and children, complete with its own investigators, social workers, interpreters and doctors.
The Law Society's approach to international rule of law is that, whilst we offer support to those lawyers and judges that are at risk, we are also seeking opportunities to support and learn from lawyers and judges abroad, who are committed to the rule of law and human rights.
* About the International Legal Assistance Consortium (ILAC)
ILAC is a Swedish non-profit organisation that gathers wide-ranging legal expertise and competencies from around the world to help rebuild justice systems in countries that are in conflict, post conflict, or in transition toward peace and democracy.
ILAC is comprised of more than 50 legal organisations, experts and legal professionals worldwide including: judges, lawyers, prosecutors, and court administrators. Their mission is to rapidly respond and assess the needs of the justice sector in conflict-affected and fragile countries, and help strengthen the independence and resilience of justice sector institutions and the legal profession.
The Law Society became a member of ILAC in 2013 and has become more actively involved since the creation and implementation of the Law Society's international rule of law programmes.