Sue Pratt explains how technology can help lawyers, and provides a guide to choosing the right solution for your team
In the middle of a busy workday, smartphone always at hand, constantly checking messages, or struggling with clunky in-house systems, it can be tempting to ask, 'What have the techies ever done for us?'. Technology can often seem part of the problem, rather than the solution. But maybe the reality is different from our perception? Maybe the techies have done a lot for us, and we just don't realise it.
In Monty Python's hilarious 'What have the Romans ever done for us?' scene in the classic film Life of Brian, the benefits of Roman technologies like roads and public baths are fairly obvious. But, with technology, the answer isn't always so clear.
Adding value to the business
A few years ago, I heard about a CEO who asked his digital team to develop an app. When asked why, he struggled to give a good business justification. 'Our competitors have one' was the best he could come up with. He had no idea what it was supposed to do and couldn't explain how it would add value to their business.
Remember, just because someone is a 'HiPPO' (highest paid person with an opinion), doesn't make them right.
The following questions will help you determine if technology adds value.
Which problems does it help fix?
Is it quicker/cheaper/lower risk/better quality than doing the same thing manually?
Does it create new opportunities, such as connecting better with customers or entering new markets?
When technology can help
In recent research, we found that half of in-house lawyers said more than 30 per cent of their time was being wasted.
These are some of the main time-wasters.
ad-hoc and bespoke processes
too much administration and non-legal work
poor access to information and documents
senior lawyers doing routine work
non-existent or dated technology platforms
Technology can help with all of these issues.
Imagine if the amount of wasted time could be reduced! What would you do with it? Perhaps you could get around to those important-but–not-urgent tasks that may help your organisation avoid a law suit in the future or make better decisions on product or market strategies. Or you could even just go home a bit earlier to see the kids before they go to bed. Wouldn't that make you happier?
As an example, Casey Flaherty, who was general counsel (GC) of Kia Motors at the time, decided to test associates at the panel law firms on their legal tech competency using applications like Microsoft Word and Excel. The issue for him was time. As he was being billed by the hour, he realised that if the associates weren't efficient, it was costing his company money. All the law firms failed the audit, so he reduced their rates unless and until they passed!
He eventually stopped being a GC and now runs a business helping others with technology competency audits.
Looking for tech solutions
Start close to home
When looking for technology to help your in-house legal team, start by looking for ways to get more out of your current technologies - including Microsoft Outlook and Word.
Most lawyers only use about 20 per cent of the functionality of Outlook and Word, so there is plenty of scope to use them more effectively. Ask your team's Word expert to run a regular hints and tips session. It's surprising how quickly people can improve their knowledge and skills.
Ask your existing technology suppliers to show you what else you could be doing with your current technologies.
Find out what other technologies are being used outside the legal team within the wider organisation. Make friends with your IT team - they may have the technology you need. And even if they don't have the answer today, they may have something in the future.
If you've done all that and can't find anything useful, then it's the time to look outside…
Looking at new options
When it comes to legal technology, there's certainly a lot out there. This gives an indication of some of the solutions available: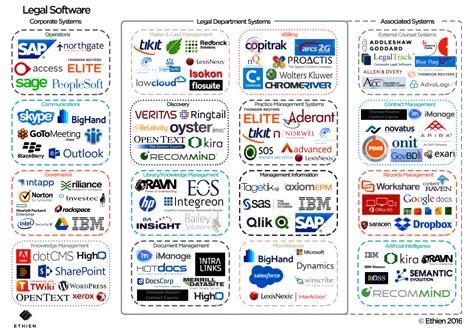 And new ones are emerging all the time. Many solutions span more than one category and suppliers keep adding new features to their products. It's another reason to look at your existing solutions again, as they may have new features you weren't aware of.
Remember that technology is just a tool and it doesn't fix everything. It can be confusing given the huge choice of vendors, but it's worth persevering.
Five technologies to consider
RAVN: law firms like BLP and Linklaters have realised that AI or machine learning technology can free up lawyers' time from routine legal work so they can devote it to other activities. RAVN can interrogate systems to extract data from contracts and present it for use in either a report or a document generation tool, such as Documentaal.
Documentaal: A great entry point document generation tool – simply a ribbon in Microsoft Word but with the functionality of far more sophisticated document generation systems.
HighQ: The law firm system of choice for collaborative working and sharing of information and files with clients in a secure environment – on a pay as you go model.
Adobe Sign (previously EchoSign): A standalone product capable of working alongside most document management systems to automate the process of getting documents approved and signed, returned and stored.
Blockchain: The technology underpinning Bitcoins. Santander recently became the first British bank to start using it for recording international payments. Many see Blockchain as an opportunity to track assets throughout their supply chains and electronically initiate or enforce contracts.
In summary, look at mature technologies first, but keep an eye on emerging ones. And don't forget to talk to your law firms. Many of them have built solutions for clients that give significant productivity benefits.
How to get a happier life with technology
1. Where to start
As you start looking for legal technology, get some help. If you have an in-house business systems contact or business analyst, get them involved early. If you haven't got one, find a consultant or ask Ethien to help.
Write down your list of things that new technology needs to do, but also think wider:
Capability:
How easy is it to use?
Is it multi-use?
Does it support changing needs over time?
What options are there for integration to other systems?
Who hosts the software and where?
Company:
What support services does the supplier offer?
What's the provider's culture like?
Are they financially stable?
Clients:
How many existing clients/users are there?
Any major wins or losses? New client wins are generally a good sign but check that the supplier's A team is available for your project.
Is there a user group that influences future developments?
2. How to build a compelling business case
Legal technology can create value in various ways. Here are some examples.
Business partnering: Implementing a collaboration platform to increase the speed of legal work done by both the in-house team and their panel firms.
Risk Management: Reducing the risk of making mistakes in contracts by automating their standard templates.
Efficiency: Enabling legal work to be done by less experienced external resource offshore and this saved one organisation $20m in one year
People: Online legal training, sharing best practices and knowledge across the legal team working across several offices.
Demonstrating benefits
To demonstrate benefits, it can be helpful to consider the five golden questions:
How do you measure it?
What is it now?
What would you like it to be?
What's the value of the difference?
What's the value of the difference over time?
This also gives you a sense of what it's worth to you to fix, which can be helpful in supplier discussions.
3. How to get the best deal
If you have access to a procurement specialist, get them involved early.
Put yourself in the supplier's shoes. Don't try to beat your supplier so far that you end up in a 'you win they lose' situation. Your project will suffer. Go for win-win. If you are a reference client you may be able to negotiate a better deal.
As well as price, consider what other aspects would be useful, such as free consultancy days or guaranteed pricing for future years.
4. How to avoid the 'technology implementation graveyard'
Many in-house legal teams or law firms acquire new technology but don't fully adopt it. To help ensure successful adoption:
Get buy-in from leadership team and run this as a change programme.
Ask for help from your IT department, but don't be driven by them.
Find an experienced project manager.
Start with a basic solution and keep it simple.
Ask for examples of how other clients have implemented the solution well.
Invest time in creating both a communications plan and a training plan.
Agree the metrics that you expect to improve as a result of implementing the system.
Summary
If you get it right, technology can make lawyers happier while helping the in-house legal function give better strategic advice, reduce risk and improve organisational agility.
So instead of asking, 'What have the techies ever have done for me?', you'd be better off asking, 'What could the techies be doing for me?' For your team, the legal function and the whole organisation.
Ethien is an advisory, managed services and technology company which helps legal and compliance teams manage complexity, risk and change.
Sue helps clients identify how technology can transform their organisations. Her background includes work in the public sector, insurance companies, utilities and retail on digital transformation projects for a WPP digital agency.