Time and resource are precious commodities, especially with on-going pressure on legal spend and an ever increasing workload.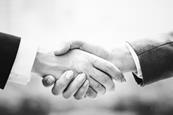 Leadership consultant Ciarán Fenton outlines key steps in developing your negotiating skills as an in-house lawyer.

ABSs continue to grow as businesses are looking to stand out in the market. The joining up of public services is not always backed by legislation which allows sharing of legal services, and local authorities are becoming commissioning organisations of outsourcing work to owned or private companies (and other third ...