Women, Business and the Law, in partnership with the Law Society, invites you to the launch of its new report Women, Business and the Law 2016: Getting to Equal on Monday 2 November.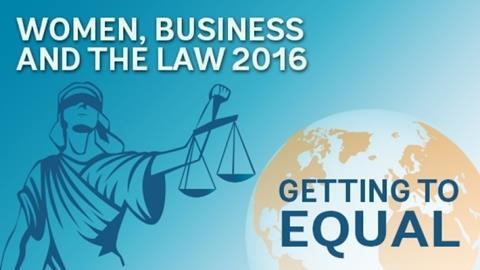 Women, Business and the Law examines how laws, regulations and institutions differentiate between women and men in ways that may affect women's incentives or capacity to work or to set up and run a business. The Women, Business and the Law dataset and report measure legal barriers preventing women from benefiting from economic opportunities across 170 countries. This report, which is published every two years and cited frequently by global media and thought leaders, uses the latest data to highlight the magnitude of the legal barriers women still face in the economic realm at a key moment for gender equality globally. This year's report marks the 4th edition of the global Women, Business and the Law report series. Under the theme of "Getting to Equal," Women, Business and the Law 2016 will focus on what it will take to achieve gender equality within the legal environment, and the relationship between legal gender equality and economic outcomes for women. The report will provide new findings on the laws and regulations affecting women's prospects as entrepreneurs and employees – including women's access to finance and the judicial system, employment, property ownership, and prevention of violence against women.
For more information about the Women, Business and the Law reports, please visit http://wbl.worldbank.org/

Event details
When: Monday 2 November 2015
Where: The Law Society, 113 Chancery Lane, London, WC2A 1PL
Programme
18.00 - 18.30 Registration and refreshments
18.30 - 18.45 Welcome and presentation
Augusto Lopez-Claros, director, Global Indicators Department, World Bank Group
18.45 - 19.00 Keynote speech
Rt Hon. Justine Greening, Secretary of State for International Development
19.00 - 19.45 Panel discussion
Professor Sandra Fredman, director, Oxford Human Rights Hub and Rhodes
Laurie Adams, director, Women's Rights at Oxfam International
Baroness Onora O'Neill, chair, Equality and Human Rights Commission
Monique Villa, CEO, Thomson Reuters Foundation
Augusto Lopez-Claros, director, Global Indicators Department, World Bank Group
19.45 - 20.00 Questions and answers
20.00 - 21.00 Networking reception
Why attend?
The new edition of Women, Business and the Law finds that 90% of countries covered still have at least one law impeding women's economic opportunities. Understanding the associated outcomes of legal restrictions is the first crucial step in addressing potential challenges for women, as well as for economic development. It can also facilitate dialogue and policy discussions on reforming laws to achieve greater gender equality and expand opportunities for women.
Who should attend?
All those interested in understanding linkages between legal differentiation and outcomes for women would benefit greatly from attending. Policymakers, legal practitioners, academics and researchers are especially encouraged to attend, as they can use the data to inform their work. Additionally, businesses seeking to invest in women can benefit by gaining insights into which legal environments best enable women to join and remain in the workforce.