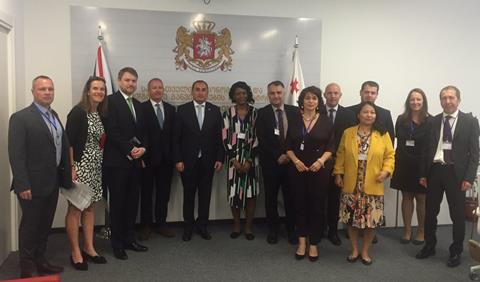 Representatives from UK financial and professional services including the Law Society international policy adviser for the CIS participated in a UK business delegation visit to Georgia. The visit was led by Mark Pritchard MP, the Prime Minister's Trade and Investment Envoy to Georgia and Armenia.
The two-day visit offered an opportunity to strengthen relations, promote legal links and business between both countries, and to promote the use of English law and English and Welsh legal expertise. Please find attached the full programme.
So why Georgia?
Georgia is strategically situated between Europe and Asia and is a good place to do business. It is ranked 9th among 190 economies in the World Bank's index of 'Ease of Doing Business', two places behind the UK. The UK is one of the top three foreign investors in Georgia.
In 2016, the Georgian government launched a four-point reform plan covering economy, education, infrastructural and open governance. The economic and infrastructural strands envisage a number of reforms that will further improve the financial systems and develop capital markets.
As a result of reforms and large-scale infrastructure projects in Georgia, there is a growing demand for foreign legal expertise which means there is a wealth of opportunities for English and Welsh legal practitioners. The Law Society has been promoting the solicitor's expertise in the CIS and Central Asian region, and this visit was an opportunity to further our work in Georgia. During our visit, we heard from the Prime Minister of Georgia, the First Vice Prime Minister and Minister of Regional Development and Infrastructure on their reform plan and the need for UK legal, financial and professional expertise.
As part of the visit, we met with David Asatiani, Chair of the Georgian Bar Association and talked about areas of future cooperation and the importance of the rule of law for economic development.
We would like to say a special thank you to the British Embassy in Georgia for organising this visit.
For more information on the Law Society's work in relation to Georgia and CIS region, please email EuropeCIS@lawsociety.org.uk