Sign up now for the two-day training from 20 - 21 September 2018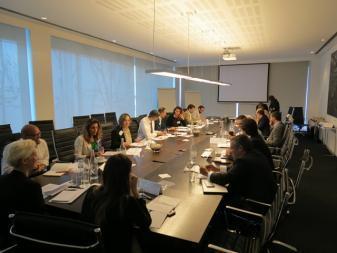 The UIA (Union International des Advocats ) is offering a management training course for legal professionals. The objective of their Training Courses is to provide comprehensive tools in specific and/or specialist areas of the law or in specific projects, by offering advanced‐level "master classes" held by outstanding expert trainers.
The Law Society is hosting a reception on the evening of 20 September to welcome all delegates to London.
Inspirational leadership and effective management are increasingly important for law firms. Competition from other law firms and organisations offering streamlined legal services means that there is a constant pressure on price, delivery and "added value". Leadership and management skills are not generally taught in law school.
Day 1 considers the key requirements of leading and managing a flourishing profit-making law firm. Day 2 considers the essential, but often time-consuming skills, required for the fruitful and constructive management of people within the firm.
Who should attend?
Senior partners, Managing Partners, heads of department, supervisors, practising lawyers, office managers, practice managers, and team leaders.
All members of the law firm who want to develop their skills in leadership, management and communication of his/her firm, department or own practice.
All those who advise lawyers on these skills.
Participative and interactive workshop
Sessions are conducted in a whole variety of ways, including: presentations, PowerPoint, delegates working individually, in pairs, in small groups, in larger groups, as a whole.
Interactive participation by the delegates includes: case-studies, role plays, quizzes, exercises, practicals, questionnaires, templates, checklists, problem-solving and theory-to-practise sessions.
Discussions allow delegates to share their experiences with others and have constructive problem-solving discussions, which lead to practical and relevant solutions and lessons learned.
Personal Action Plan - each individual creates a Personal Action Plan, of actions that they will carry out when they return to work. They can then immediately apply what they have learned as soon as they get back to the office from the training
Working language
The sessions will be held in English without simultaneous translation .
Accreditation of courses
Every participant attending the entire 2 days Training Workshop programme will receive a "Certificate of Attendance" at the end of the Training that may be used for obtaining "Credits" for "Continuing Legal Education" - "Continuing Professional Development" purposes, depending on national rules. For more information, please contact the UIA.
Places are limited, so register now: http://www.uianet.org/en/evenement/type-46993/leadership-and-management-law-firm-delivering-exce