Three outstanding trainee solicitors were recognised for their exceptional essay-writing skills.
First prize of £1,000 went to Ms Katherine Zinser, a trainee solicitor at Slaughter & May.
Highly commended prizes of £250 went to:


Mr Adam Bruell, a trainee solicitor at Hogan Lovells International LLP
Ms Chloe Kite, a trainee solicitor at DLA Piper.
Dr Andrea Coscelli, acting chief executive of the Competition and Markets Authority and Stephen Smith, partner, Bristows LLP and chair of the Competition Section committee awarded the winners of the essay prize, which is given to the best essay submissions on a given topic every year.
Here you can download the winning essays (Katherine Zinser, Chloe Kite, Adam Bruell and see photographs of our winners Katherine and Adam with Dr Andrea and Stephen Smith. The additional winner, Chloe, was out of the country at the time of the event but we will present her with her award once she returns to the UK.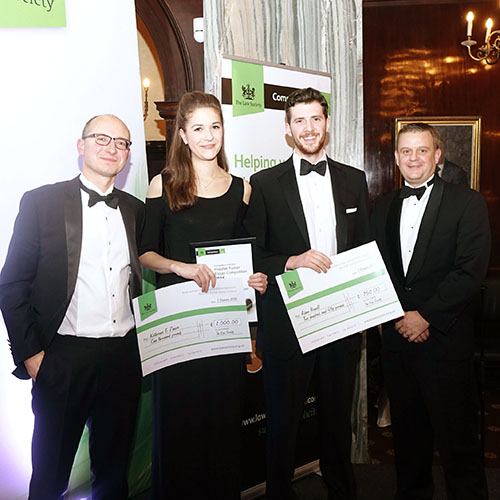 This year the Competition Section entrants were asked to write on the subject: 'What changes, if any, do you think should be made to UK competition legislation, and to the way it is enforced, in the event of a UK exit from both the European Union and the EEA'.
The Competition Section is a Law Society membership group that provides its members with insight into changing legislation and regulation through thought leadership on topics such as compliance, privilege, disclosure and enforcement.
Services to section members are delivered through face-to-face networking events, exclusive online content and topical webinars. The content is identified by the Law Society in collaboration with an advisory committee of competition law practitioners.