David Young, senior project manager for the Civil Money Claims project, provides an update.
Progress to date
We started testing the first part of our new service in early August. This initial release enables litigants in person to issue and respond to specified claims up to a value of £10,000 online. We started testing the new service with a relatively small number of members of the public and have gradually increased numbers over the past few weeks. Eligible and interested parties were initially invited in to take part in the testing through incoming calls and recently we placed an advert on the Money Claims Online home page which has helped increase testing numbers.
We're still testing in a private environment (known as private beta) and this allows us to learn as we go and make changes to the service based on feedback that we receive. We'll continue to refine the new service until we are satisfied that we have learnt as much as we can and at that point we'll allow everyone access to the new service (known as the public beta stage). This is currently planned to happen early in 2018.
What have we changed
Our testing approach has meant we have added extra functionality to the service including enabling sole traders, companies and organisations to submit and respond to claims. Based on this we have made some improvements such as being clearer about how much they would be charged for issuing a claim. This is a crucial piece of information to help claimants decide whether or not they want to proceed so we have moved this to the beginning of the issuing process.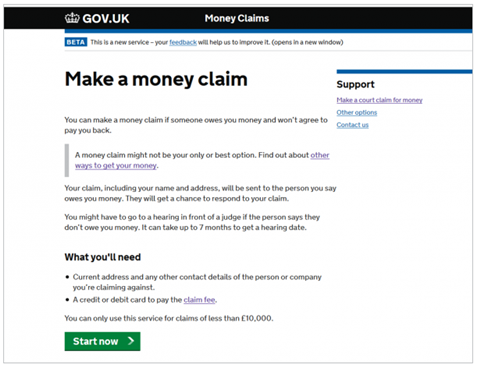 We've received some helpful feedback with over 78% of people involved in testing being satisfied or very satisfied with the service. One user commented "After a call to your helpline, they told me of this service and sent me the link, all was plain sailing. I am sure once this service is publicised it will vastly reduce waiting and reaction time."
We've also developed an online service that will support unspecified claims (including personal injury) which has been tested with legal representatives around the country. We've made a change based on feedback that now enables legal representatives to issue and serve a claim for an unspecified sum of money on behalf of their clients. We've also considered Welsh language requirements within the scope of the project and will ensure compliance with our Welsh Language Scheme.
What's Next
This is the exciting first step in our journey that will eventually read more