Justice minister Lord Faulks says fees hike is essential to ensure the courts are properly funded.
The proposed 600% civil court fee increases were approved by the House of Lords last night and will come into effect on Monday, 9 March.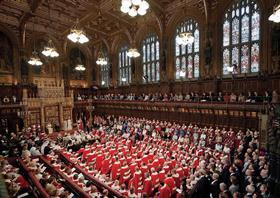 A 5% charge will be added to all civil claims valued at more than £10,000, with fees capped at £10,000. The government says the levy will bring in £120m a year to fund the court service and that the majority of current cases will not be affected.
Despite criticism from some peers, Lord Faulks maintained the principal reason for the fees was financial and to ensure the courts are properly funded. He said: "In the current climate, we must also look to those who use the courts to contribute more towards the running of the courts, where they can afford to do so."
Those who wish to avoid having to pay up to £10,000 to issue a claim will need to issue their claims by 4pm this Friday, 6 March.
Court fee increases from 9 March 2015

| Value of claim £ | Fee now £ (paper) | New fee £ | % increase |
| --- | --- | --- | --- |
| 15,000 | 610 | 750 | 23% |
| 20,000 | 610 | 1000 | 64% |
| 25,000 | 610 | 1250 | 105% |
| 30,000 | 610 | 1500 | 146% |
| 40,000 | 610 | 2000 | 228% |
| 50,000 | 910 | 2500 | 174% |
| 70,000 | 910 | 3500 | 285% |
| 90,000 | 910 | 4500 | 395% |
| 100,000 | 1115 | 5000 | 348% |
| 125,000 | 1115 | 6250 | 460% |
| 150,000 | 1315 | 7500 | 470% |
| 175,000 | 1315 | 8750 | 565% |
| 190,000 | 1315 | 9500 | 622% |
| 200,000 | 1515 | 10,000 | 576% |
| 250,000 | 1720 | 10,000 | 481% |
| 500,000 | 1920 | 10,000 | 421% |