A young girl left with severe brain damage following a failure to diagnose meningitis, who would not have been able to afford to issue court proceedings under new government proposals, is just one of many case studies solicitors have been sending the Law Society in response to 600% increases in court fees.
In its response to the government's latest consultation on 'enhanced' court fees, the Law Society has used case studies to reiterate its concerns and illustrate the devastating impact the proposals will have on ordinary people seeking access to justice. The government announced court fee increases of as much as 600% in some cases in January. Their announcement followed a private consultation in December, in which the Law Society and other legal representative bodies were denied a voice.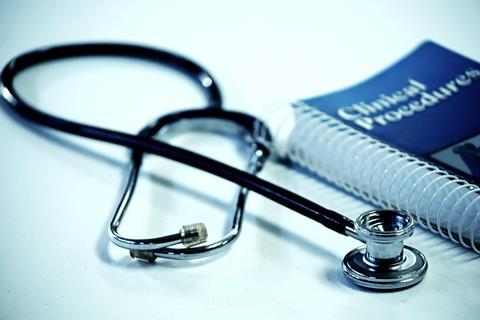 The fee increases from April 2015 could have a devastating impact on those who have suffered life-changing injuries as a result of negligence and who cannot afford to bring court proceedings.
Law Society president Andrew Caplen said: "The government appears to be on a mission to turn the courts into a profit centre, amounting to a flat tax on those seeking justice. People whose lives have been turned upside down by life changing injuries suffered through no fault of their own may no longer be able to afford to access the courts to seek compensation to fund their care.
"As well as affecting those who have been injured, the increases may leave small and medium sized businesses saddled with debts they are due but unable to afford to recover."
Many solicitor firms currently underwrite their clients' claims, but the new fees mean it is unlikely the firms will have the cash in the bank to be able to cover the fees pending what can be a lengthy wait for the outcome of a claim.
"The government is seeking to sell justice, contrary to the principles of Magna Carta"
The Law Society's consultation response covers further proposed increases to court fees which if agreed will affect social landlords and councils.
Non-profit organisations such as housing associations and local authorities, which provide housing for people in the most need or struggling with housing costs, would bear the brunt of fee increases in possession claims if the proposals are agreed. In its impact assessment, the government failed to identify mortgage lenders, social and private landlords as affected stakeholders, despite these being the most likely groups to be affected by the changes. The government has raised the cost of online possession claims by 225% since April 2014.
Law Society president Andrew Caplen said: "Now social landlords and councils - which provide vital housing for older people, women fleeing domestic violence and those on low incomes - will be hammered by the government's latest proposals.
"The government is seeking to sell justice, contrary to the principles of Magna Carta."
The Law Society's response argues that:
• Fees for possession claims will not be able to be recovered from debtors - as the government claims - because debtors are already in serious financial straits and will not be able to afford them.
• Fees are not a secondary consideration on deciding whether to litigate - which the government claims - as landlords have no alternative. They have to issue proceedings to gain possession as they are required by law not to evict a tenant in arrears without a court order. Without this they cannot find new tenants to carry on their business.
• Local authorities' budgets are already stretched. Higher court fees will divert funds away from addressing basic housing problems.
• Landlords could end up having to increase deposits required at the start of a tenancy to cover prospective court fees. Many tenants already struggle to meet the costs of deposits. The government has already been criticised by the Public Accounts Committee for failing to look at the effect of its policies on the wider community.
The new fees mean it is unlikely firms will have the cash in the bank to be able to cover fees pending what can be a lengthy wait for the outcome of a claim
In response to proposals on fee increases for general applications in civil proceedings, the Law Society argues that the government fails to justify 100% and 66% increases in application costs, which are disproportionate to the work and costs involved for the courts service issuing a claim.
Case studies
The impact of the government's January announcement of up to 600% increases on court fees for individuals and small and medium-sized businesses is expected to be dramatic. When gathering views from its members to inform its consultation response, the Law Society collected a number of case studies.
Case study 1 - impact of court fees on low-income claimants
Mr Jones is a 66 year-old pensioner. He does not have any significant savings and supports his family with the income from his private pension. The pension fund was valued at £91,000 in 2010.
In 2010, Mr Jones's independent financial advisor ('IFA') recommended that he transfer his entire pension funds into a different scheme. In 2012, they recommended that he move his funds again. The result was that Mr Jones's entire pension was transferred into high-risk, unregulated collective investment schemes which are now either frozen, illiquid or have suffered catastrophic losses. Mr Jones's solicitors have attempted to obtain copies of the investment documents from the IFA, to no avail. An application needs to be made to begin court proceedings.
The current fee for issuing the application is £910. Once the increased court fees are implemented, the fee will be approximately £5,000.
Mr Jones has already effectively lost his entire pension fund. He cannot afford a £5,000 fee. If these fees are introduced, he will have to discontinue his claim and will not be able to recover the money he lost as a result of negligent financial advice.
Case study 2 - impact of higher fees on claimants and their representatives
The client in this case is a young man who suffered a severe injury to his arm after being instructed to work with an unguarded saw. The employer has been prosecuted and pleaded guilty to breaching Health and Safety regulations. The employer's insurers have admitted liability but are seeking to reduce the amount payable in compensation by claiming that the young man contributed to his own injuries. It is likely that court proceedings will be issued as a result. The solicitor has estimated the damages for loss of earnings in the future at over £200,000. The court fee will therefore be £10,000 - had the case been issued before the increases, the fee would have been £1,515.
The young man is currently back at work on the minimum wage. He could not fund £10,000, and £10,000 is also a lot of money for the firm in question to fund up-front.
Case study 3 - impact of fees on clinical negligence claims
A young girl was left with severe brain damage as the result of a failure by health professionals to diagnose meningitis when she was a toddler. The girl needs extremely high levels of care and accommodation to meet her needs. The mother and daughter were living in unsuitable accommodation which meant that the mother had to carry the girl up and down three flights of stairs several times a day, which was extremely difficult for her.
Court proceedings had to be issued to secure financial settlement. The court fee for this claim would now be £10,000.
At the time the claim was brought the girl qualified for legal aid. She would not qualify for legal aid now as the injury did not occur at the time of her birth. Her mother would not be able to afford the £10,000 fee, if the mother could not afford to access justice this would have left her and her daughter severely disadvantaged and struggling to cope in unsuitable accommodation.