The Law Societies' Joint Brussels Office offers a range of business facilities and services for solicitors including study visits, conference facilities, hot desking and trainee secondments.
The Law Societies' Joint Brussels Office offers conference facilities and hot-desking at its offices situated close to Rond-Point Schuman in the heart of the EU district.
Conference facilities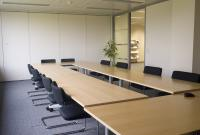 The conference rooms can accommodate groups of 16, 22 and 34 people (boardroom style) and 40 people (theatre style). Each room benefits from air conditioning and natural light. The rooms are equipped with video conferencing facilities, a data projector, flipcharts and WiFi access. There is access to a self service photocopier and catering and refreshments can be arranged on demand.
Hire Rates:
Room
Price per day (€)*
Price per half day (€)*

Seminar room

seats up to 16 people

350

175

Board room

seats up to 22 people

580

325

Conference room

seats up to 34 people

925

580

Theatre style seating

seats up to 40 people

1100

650
* Prices are exclusive of VAT at 21%. Additional charges may apply.
Booking details
For further information or to book, please contact Antonella.Verde@lawsociety.org.uk. 20% discount is available for corporate members of the International Division.
Are you looking for somewhere to stay in Brussels? Take a look at our hotel directory for ideas - if you are an International Division member you will receive a special rate.
Find out how to join
Study visits and advice
The office regularly organises general study visits to the EU institutions and tailor-made visits to meet the key EU officials in your field of practice. We can also:
advise you on how best to represent your clients when lobbying the EU institutions
provide logistical support in arranging meetings
assist with the identification of EU funding opportunities
For further information, e-mail: brussels@lawsociety.org.uk.
Trainee solicitor secondments
The Law Society's Brussels Office offers trainee solicitors a unique opportunity to undertake a six-month secondment in the Brussels Office. The secondments commence in March or September of each year.
Getting here
Arriving via Eurostar:
The Eurostar arrives at the Gare du Midi (Zuidstation) which is approximately 10-20 minutes taxi ride from the Brussels Office. Alternatively taking the metro to the Schuman metro station takes 20-30 minutes. The Brussels Office is then within a few minutes walk.
Arriving by Brussels International Airport:
Brussels International Airport (Zaventum) is approximately 20-30 minutes taxi ride from the Brussels Office.
The airport bus service (#12) arrives into Schuman. There is a regular service every 20 minutes, which takes approximately 30 minutes.
A regular train service from Brussels International Airport ( every 15 minutes) to the Gare Centrale and the Gare du Midi takes approximately 20 minutes. From the Gare Centrale there is a direct metro (Line 1) to metro stop Schuman. The Brussels Office is then within a few minutes walk.