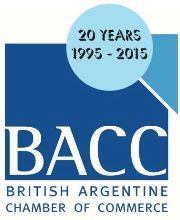 The British Argentine Chamber of Commerce (BACC) will be holding its 7th Argentina UK Networking Day at the Law Society on 30 November 2015. The event is a day for exploring strategic business opportunities, meeting key contacts, updating information and shaping deals between Argentina and the UK.
Since 2009 the event has attracted an important critical mass of speakers and audience, and therefore the Networking Day represents one of the most important opportunities in the United Kingdom for exploring business with Argentina and learning about business case studies.
Speakers this year include: Mr Diego Guelar, Secretary of International Relations PRO, Mr. Zeev Godik, CEO of Gaucho Group, Sir Michael Rake, Chairman of BT, Mr. Jose Luis Manzano, Chairman of Integra Capital, Fiona Mackie, The Economist Intelligence Unit and Luis Novaresio, Argentine Journalist among others.
The final panel will include a Representative of the New Federal Elected Government to be announced after the elections on 22 November.
The full programme can be found here.
To register for the event and dinner, please visit the BACC's website.