Find out about Section membership and benefits, and join or renew your membership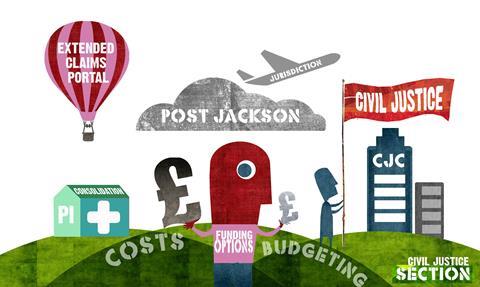 What we do
We give you access to the best practice support you need, when, where and how you want it, on the issues that matter to you. From consolidation in personal injury to costs budgeting, from class actions to cross-border cases, and from the extended claims portal to litigation funding.
Our support will help you achieve best practice, because it comes from specialist civil justice legal professionals.
In 2013, Civil Justice Section membership delivered:
8 hours of CPD-accredited best practice learning
20 updates and features in our quarterly e-newsletter, on topics including damages-based agreements, hot-tubbing, referral fees and proportionality
Two inclusive half-day conferences, on the topics of the Jackson reforms and EU civil justice (worth £75)
40% off the Law Society's market-leading magazine, Litigation Funding
Over £400 of discounts off other Law Society books, products and events, including 20% off first-time applications to the Civil and Commercial Mediation accreditation scheme
Who we are
Our Section committee of civil litigation and ADR solicitors, solicitor advocates and other specialists, elected by members, works with Law Society experts to ensure we give you the best possible support.
Committee members include representatives of niche litigation firms, full service regional firms and top 200 firms, as well as two Law Society Council members, including the member for civil litigation.
For more information about Sections, see the Communities pages on the Law Society website or browse our FAQs.
Who can join
Membership is open to practising solicitors and trainee solicitors.
Your benefits until December 2014
Up to 8 CPD points earned using your:
Spring and Autumn Conferences, available either live or on demand
4 webinars, available live and on demand
As well as:
E-newsletters and online resources
Discounts off related Litigation Funding magazine, Law Society Publishing books and webinars
Opportunities to network and influence change